New Single! "Can't Stop The Feeling!"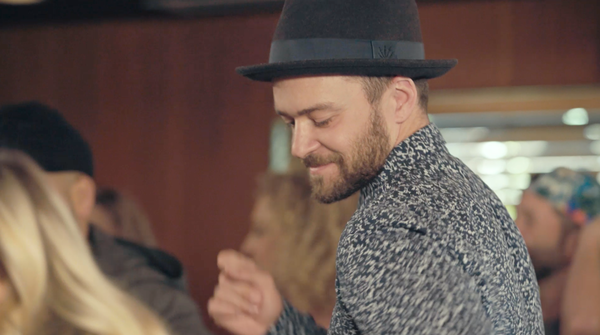 Ready. Set. Dance. Justin has just released an infectious new single "CAN'T STOP THE FEELING!" from the upcoming DreamWorks Animation film Trolls - the perfect song to kick off an instant dance party!
Proof? Watch the First Listen video below as Justin, his friends and family, as well as some of the cast of Trolls, listen to the song for the first time. We promise - you won't be able to stop yourself from dancing along!

"CAN'T STOP THE FEELING!", produced by Justin Timberlake, Max Martin and Shellback, is the first single for the soundtrack for the film Trolls, which boasts an all-star cast, including Justin and Anna Kendrick, Gwen Stefani, James Corden, Ron Funches, Kunal Nayyar and the band Icona Pop as seen in the video!!

AppleMusic: http://tmbr.lk/CSTFi
Spotify: http://tmbr.lk/CSTFsp
Amazon: http://tmbr.lk/CSTFamz


P.S. You have your own dance moves using the hashtag #CantStopTheFeeling so Justin can see them too!
JUSTIN TIMBERLAKE - "CAN'T STOP THE FEELING"
PRODUCTION CO: THE UPRISING CREATIVE
DIRECTOR: FAITH-ANN YOUNG, JONATHAN CRAVEN, JEFF NICHOLAS
EXECUTIVE PRODUCER: JONATHAN CRAVEN, JEFF NICHOLAS
PRODUCER: LAUREN CIELL
EDITOR: DAN O' SULLIVAN
ART DIRECTION: KATIE HAYDEN, MOSSY CREATIVE
Related Content
Justin Timberlake will headline the Pepsi Super Bowl LII Halftime Show on Sunday, February 4, 2018 at US Band Stadium in Minnesota. This will be Timberlake's third time performing on the Super Bowl Halftime stage, giving him the distinction of having the most...

"DreamWorks Trolls Holiday," a half-hour animated musical special that features the A-list talent involved in the highly successful film franchise that launched last November, is set to premiere Friday, Nov. 24 at 8:30 p.m. ET/PT on NBC and will also be available on Netflix...

On Friday, Sept. 8 at 8:00-9:00 PM ET (PT tape-delayed), JT will participate in "EIF Presents: XQ Super School Live," a one-hour telecast/ongoing digital initiative that will invite the public to help rethink the future of American high schools.

Dominican Republic, are y'all ready?! JT is scheduled to perform at this years Festival Presidente in Santo Domingo's Estadio Olimpico.